Bishop Thomas Grant School, Streatham.
During the 2017 Summer half-term, London Surfacing resurfaced both of the main school playgrounds at Bishop Thomas Grant School.
Both the lower & upper playgrounds were overlaid with a new red Ultiplay surface course.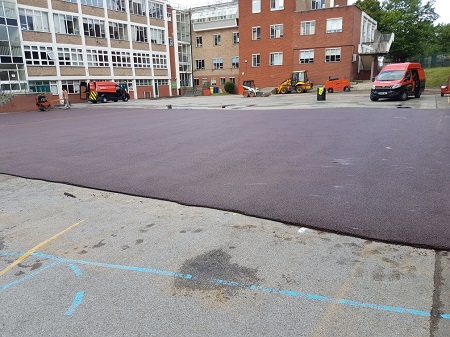 The tired, old tarmac surface was levelled with extra binder course & rolled. The ironwork (manholes etc.) were raised to accomodate the level of the new surface. Tack coat was applied and the new surface laid over the top.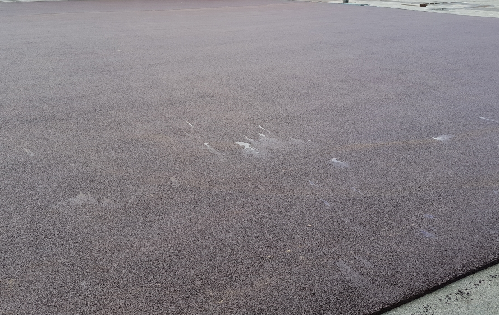 Once the red surface had settled, the new sport marking were laid in yellow & white.
Some footpaths leading to the playgrounds were also overlaid in a black surface course.
Halley House, Arcola Street.
In December 2015 London Surfacing completed an unusual project on the 3rd floor balcony of a school in Hackney.
London Surfacing were approached by our clients City Axis with a view to undertaking work at Halley House School in Hackney. The school hired an architect to produce a plan of the proposed rubber safety surface they wanted installed on an outside balcony.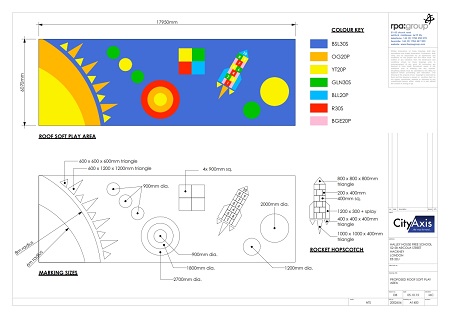 The design mainly consisted of a blue base with a number of multi-coloured shapes built within the base colour.
The logistics of getting the material up to the 3rd floor was co-ordinated between LSC & the School. The Safetyfall was to be laid at a thickness of 40mm.
The result: A very happy client & school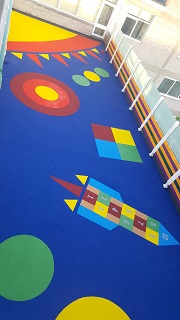 The children now had a play area balcony that was safe but also bold & very colourful.
The finished product even seems to improve upon the look on the architects drawing.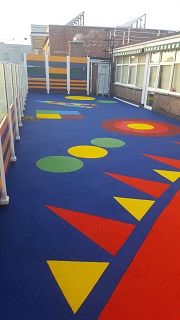 Croydon - Tramlink
Tramlink undertook an extensive refit of a major part of their tram line, stretching most of the length of Addiscombe road, from East Croydon station to Sandilands tram stop.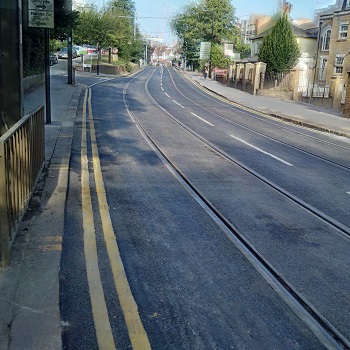 The rail replacement programme involved London Surfacing planing off the existing surface and after volkerrail replaced the tracks, resurfacing around and inbetween the new rails, laying base and surface course.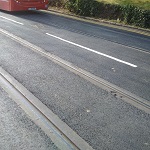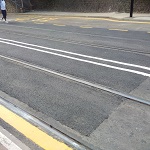 The wholes site was also re-lined in thermoplastic yellow & white.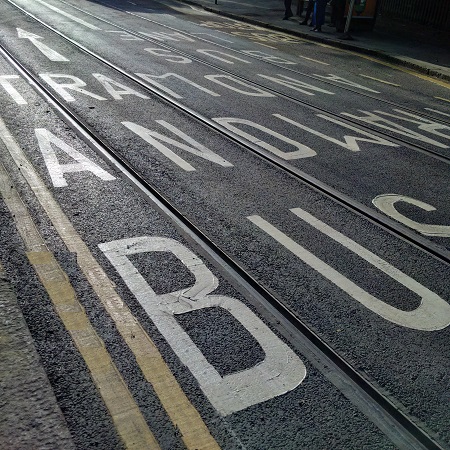 The project was completed in 10 days & open to trams, buses & cars.